Afternoon all! It's been over two months since I last did a 'Face of the Day' post (it's true, I checked) so it was well and truly time for another one. Today I decided to have a little play around with makeup and try a pin-up style on myself. I love doing this look on models but never on myself.
Red lips have never suited me and I doubt they ever will, these photos prove that perfectly. I think maybe I could just about take a much deeper red, bordering on purple at a push. Big flicks are also something that don't really work for me due to the shape of my eyes, I oh so wish they did because I love lots of eyeliner! I went for a very fine line first with a nice long flick then tried it again taking the line down under my eye as well.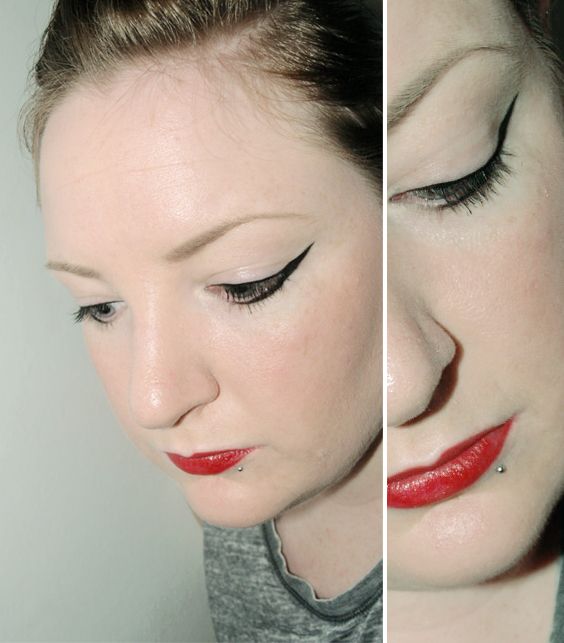 I think generally this is the flick shape I prefer most on everyone, by taking the line underneath as well it draws the eye outwards and is really flattering on a lot of eye and face shapes, whereas in the first images you can see the flicks don't look as nice front on.
On my cheeks I tried a new blusher, this is one of the Ceramide cream blushers by Elizabeth Arden in the shade Honey. First impressions, I really like it a lot. It's nice and creamy with good colour payoff so you don't need to build it up too much but can work it into the skin for a lighter appearance. I am definitely favouring cream blushers this summer which give a more natural, dewey look and am avoiding face powders in general.
What do you think of this eye and lip combo, is it one you wear yourself? Also, have you tried any of the Elizabeth Arden cream blushers before? Elizabeth Arden is a brand I rarely use but I'm very impressed and will have to investigate more of their products in the future. Also do let me know what you think of my FOTD posts, and if you had a particular look you think I should try do comment below.