This week is one of my all time favourite shops on Etsy -
Nixxi Rose
. Nixxi is based in Southampton and creates the most wonderful and enchanting jewellery for any fans of the weird and wonderful ...and often macabre. So now you know why I'm so in love!
Nixxi creates her jewellery from hand sculpted polymer clay which she also hand paints, as well as a combination of other mediums such as leather, wood and charms. Have a look at my favourite pieces below and read Nixxi's fab descriptions.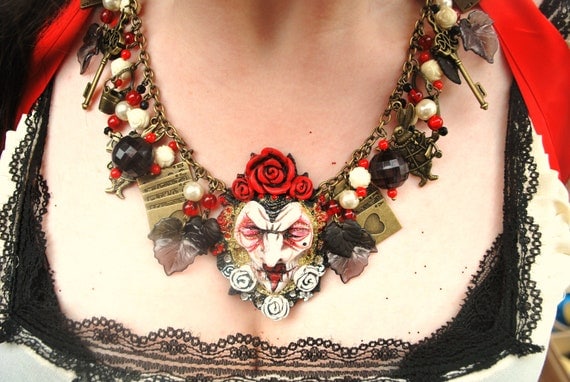 "Living in the heart of The New Forest, southern England, and just 10 miles from where Lewis Carroll wrote his much loved story 'Alice in Wonderland' the surrounding countryside has always provided me with great inspiration regarding this beloved book. I had a childhood full of strange insects, beautiful landscapes, creepy old oak trees and rabbit holes!
For my first foray into Alice inspired wonderments! I have built a mini collection based on the furious and terrifying Queen of Hearts.

This necklace features a hand sculpted and painted cameo of the queen herself surrounded by all sorts of wonderland creations, playing cards, white rabbits, buckets of paint, roses, tea pots and cups!"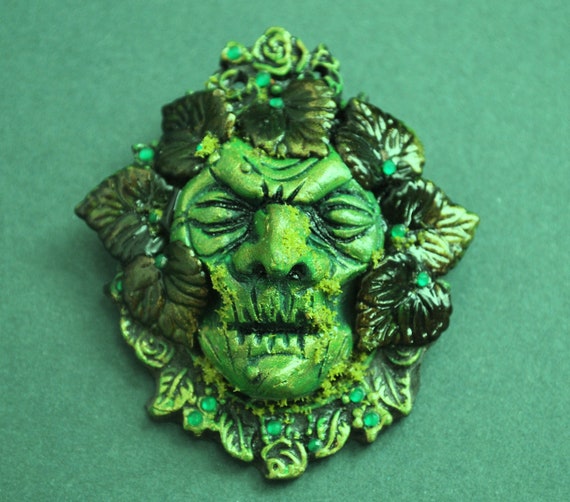 "When I was a child my dad carved an enormous plaque of the mysterious 'Green Man' with his face covered in leaves with beady little acorns for eyes, he hung it right at the top of the stairs outside mine and my sisters bedrooms and i can say with all honesty that it scared the living crap out of me! I think he put it there on purpose because it made sure I NEVER left my room at night because i was convinced the green man would come and get me!

Anyway, to cut a long story short I have grown up now and images of 'The Green Man' intrigue rather than scare me! This is my own interpretation of the elusive 'Jack in the Green' and I am pleased with the outcome."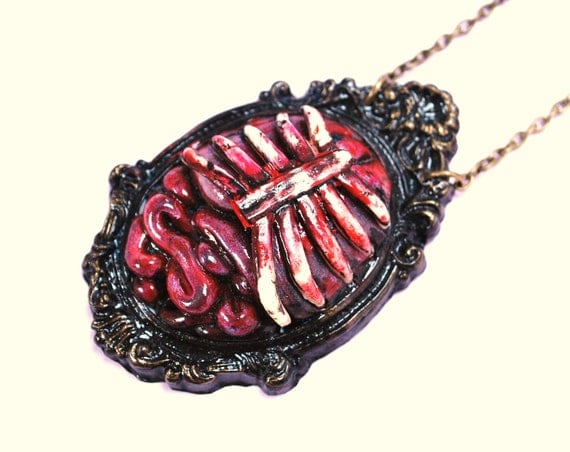 "This pendant features a gruesomely realistic human chest cavity complete with ribcage, lungs, liver and intestines! framed by a beautiful ornate filigree frame! Made entirely of polymer clay then hand painted and varnished.
"
So what do you think of all that?? If you hate anything a little gory or bizarre I suppose this just won't be for you but either way I'm sure you can appreciate the talent and care and attention that must have gone into these pieces.
I often stop by Nixxi's Etsy shop and gaze longingly at it all, ONE DAY, one day.