Afternoon m'dears! Today I want to share with you a wonderful store called
Pumpkin Soup
. Pumpkin Soup is an independant, online store selling a wide range of awesome vintage and diy clothing, accessories and jewellery. The store is run by the lovely Tori who is a fashion student and also a blogger herself -
Tori West Fashion
.
After Tori emailled me and offered me a couple pieces to review I linked her to my favourites from her shop and described the kind of style I usually go for, oversized and casual.
These are the pieces Tori chose for me, a fab knitted jumper with interesting, black and grey pattern, and this oversized shirt with a gorgeous, unusual print. I was super excited to get both of these items, the jumper is right up my street, I'm a big fan of monochrome clothing. I also really like the print of this shirt and I think the colours will go with a lot of other pieces in my wardrobe.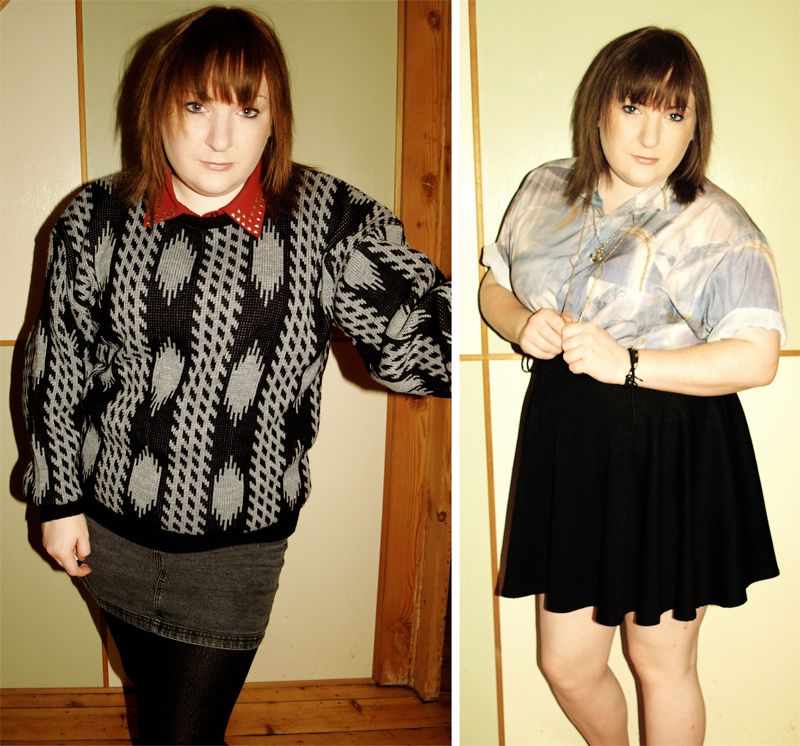 - I decided to create an outfit for each piece Tori sent me, I paired the jumper with a denim bodycon skirt, thick black tights and a shirt with embellished collar, I really like the pop of red from this, it's a nice contrast with the jumper and this is a fab winter outfit.
- The colours of the shirt would be perfect in the summer so I wore this tucked into a skater skirt with bare legs and rolled up sleeves. I'm also wearing a couple of gold necklaces which again I think go nicely with the colours. I did think of a couple of other ways I might style this shirt so I'm sure you'll be seeing it again in an outfit post soon!
As well as sending me these two lovely tops Pumpkin Soup have set up a 15% off code for all of you guys, just enter rafflesbizarre when you checkout!
The shop and Tori's blog are linked at the top of this post
but you can also find Pumpkin Soup in the following places: