Time for my next DIY post. I really love these frames nd I love that they can also be really versatile in what you make them from.
I made these army frames for a friend and my Dad for Christmas. My Dad's is the one on the right and that's a picture of my Granddad in there.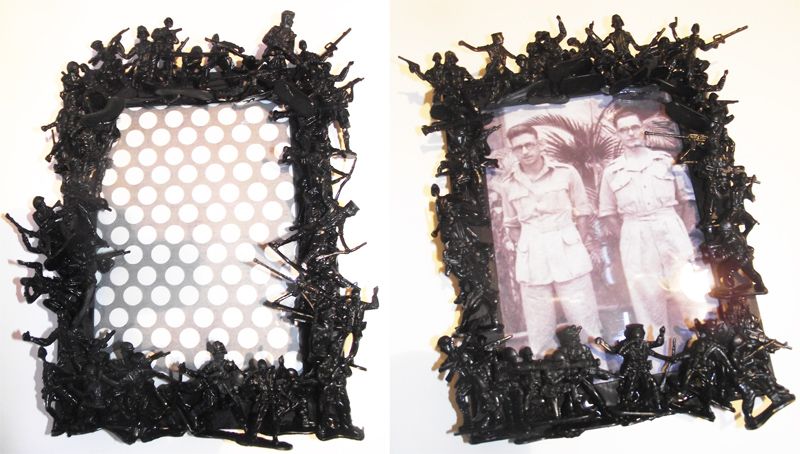 These are also super easy to make and affordable too! First you need to get a blank frame, these you can find anywhere on the cheap like Wilkos or Poundland. I then chose what I wanted to put on the frame so in this case toy soldiers which I also found in Poundland.
After removing the glass I used a hot glue gun to stick the soldiers all over the frame until there was no space left. I used a specialist glue called Diamond Glaze to secure them but if you use enough hot glue in the first place you shouldn't need another.
When it was all dry and cooled down I removed any excess glue strands and sprayed the whole thing black until every little bit was one consistent colour. Once this has dried thoroughly you can put the glass back and choose what to put inside.
For variations of this you can just choose different objects to stick to the frame, for example I was looking for some plastic dinosaurs to make a frame for a different friend. You can use anything though, toy cars, found objects, even broken jewellery - which I will be trying next. You also don't need to just stop at frames, think mirrors or even the base of lamps, this technique can apply to anything! You can also obviously choose whatever spray paint colour you like, I think the metallic gold and silvers would work really well too.
So I hope this was a fun little DIY to learn about today, do you like this idea? Let me know if you think you'll be trying it too.