I was so proud of myself for finally remembering to take outfit photos before I left the house yesterday...then when I was editing the pictures I realised I am wearing the same top as one of my last outfit posts. This wouldn't be such a big deal, but I've only ever done 5 before. Oops!
Oh well, I figured I would show you regardless.
Cardigan - Primark // Top - Illustrated people @ Topshop // Bodycon skirt - H&M // Scarf - Alexander McQueen // Bag - Kate Sheridan
I wore this quite casual outfit to dinner Saturday night with my family. We went to a restaurant called Jimmy Spices in Wimbledon which is buffet style with foods from India, China, Thailand, Mexico and Italy, plus salads, desserts and most importantly cocktails! If you follow me on Instagram you will have seen what I ate, it was delicious, but a very relaxed place so I didn't want to dress up.
You can also see my new hair a lot better in these photos, it's much lighter than it looked in my Instagram shots.
I've had a couple of photoshoots the last two days so on Saturday I spent the afternoon sorting through my kit and cleaning my brushes etc. I figured this would be the perfect time to take some photos for a couple of blog posts. First I wanted to show you my everyday makeup, what it looks like and what products I use.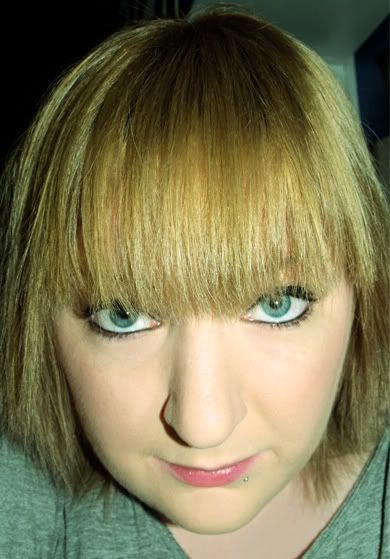 I'm all about quite natural makeup most of the time, I hate to feel like I have it caked on, especially as I always need to wear foundation (my skin is not perfect) so I tend not to overdo it on eye makeup or lips, especially during the day.
Here are the brushes I typically use for myself and the face products. My brushes are a mix of brands, Mac, Clinique, Body shop, Inglot, Charles Fox, Jack Wills etc etc, and I tend to always carry around the same few for my own makeup as then there is less to clean before shoots.
As far as the products I use I do tend to chop and change, so above are just the ones I use the most.
Mac Prep + Prime face primer and Urban Decay eyeshadow primer // Dermacolor or Sephora concealers // bareMinerals, Gosh or Dainty doll foundation // Mac blusher // Topshop highlighter.
I forgot to photograph my translucent powder which is by Kryolan.
For eyes if I wear any eyeshadow at all it's usually a smokey eye in shades of brown during the day, then at night if I'm going out I might change to a standard, dark smokey eye. I usually use a mixture of the above, Mac, Fearne Cotton, Gosh or Urban Decay. A lot of the time I will just wear eyeliner though.
Lastly they eyeliners I use are both by Mac, the fluidline is what I always use on both my top lids and my water line, however I carry the Mac pencil eyeliner around for quick touch ups. My favourite mascara by Covergirl has finally run out but I've been really enjoying this one by The Makeup Store however I still use the brush from the Covergirl one as it is a lot better. I fill by brows in with this brown eyebrow cake from Illamasqua and generally use a Covergirl stain on my lips or sometimes this nude Mac Gloss.
Annoyingly my kit is all packed away still so I haven't been able to add the names of any of the colours here but if you really want to know which any of them are I can look them up later and let you know!
I always find these kind of daily makeup posts really interesting, I love to see what products you all use so hopefully you'll find this quite informative too. Do you rate or hate any of the products I've mentioned above?