It's been approximately twelve years since I've blogged so to ease back in I thought I'd share some of the things I've been up to over the past couple of months.
Work is the main thing keeping me busy, I've been flitting between different jobs, a big tv show, several music videos, short films and more. With a ton of prepping for future projects in between.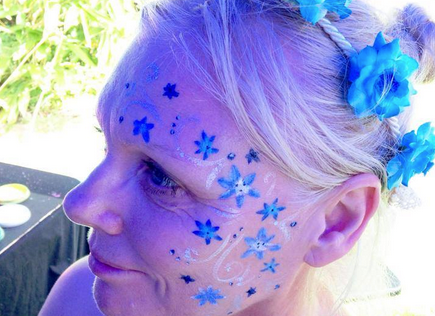 I was away for five days at the Larmer Tree festival in Dorset working with two lovely ladies and face painting children and a few adults. It was great fun but I've never painted so many tigers in my life. The festival itself was nice and chilled being that it was very family orientated, we didn't catch many bands but it was all very cool, especially the forest areas which had lots of hidden gems and light installations. There were also peacocks everywhere, I'll never get that sound out of my head!
Earlier this year I shot with the very talented Kitty Gallannaugh again and our gorgeous model Alexa Morden for the London edition of My Little World magazine.
It was a lovely surprise when the magazine came out recently and one of our photos had made the front cover!
This year I also did the hair and makeup for Birte Paulsen's music video which is a really interesting one as you can probably guess from the photos above. You can watch that
here
. This was a fun one with some gorgeous 40s styles combined with some haunting scenes in the woods and plenty of blood.
Unfortunately there's not much else I can share with you yet but you can follow me on
Facebook
to keep updated and see my previous work.
Next weekend will be very exciting as I have the screening of the feature film I designed hair and makeup for last year when I was away filming in Folkestone for two weeks. It's a horror film shot entirely from the main character's point of view and is also called
POV
funnily enough. The film has some very big, gorey makeups which I can't wait to add to my portfolio when the film is released.
Let me know if you like hearing about this kind of thing and maybe I'll post another work update when I have some more I can show you.