Home decor is something I spend a lot of time thinking about, quite ridiculous seeing as I don't have my own place. I dream of living in an LA loft with exposed brick and hardwood floors, floor to ceiling windows and quirky furniture.
While it seems slightly redundant decorating my room here at my parents', my homeware storage space is running out so I thought I'd pop a few things up on the wall, and I'm glad I did, I really like how it looks.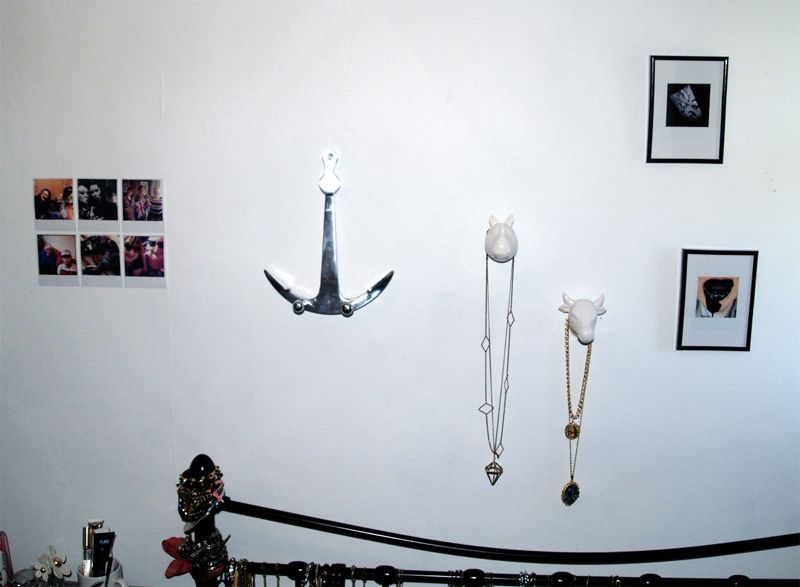 As I sit in bed writing this, that's the wall opposite me. Until yesterday the wall was bare save for the cow head and six polaroid photos on the left. I've been waiting for a chance to knock in some more nails and hang the rhino head but didn't have the motivation until I found this anchor in Homesense the other day.
I found the anchor on sale for a mere £7.99 so I couldn't believe my luck, I would have paid double. I don't know if you can tell from the photo but it's a really chunky, heavy piece of metal. I originally thought I could use if for further jewellery storage but that looked slightly odd so I'm now at a loss of what to hang off it. The frames I bought in Tiger specifically to home the last two polaroid prints which didn't really belong with my family and friends ones. I think they look really effective against the white backgrounds so they appear to be suspended in mid air between the frames and the wall.
If you have any thoughts of what I should hang from the anchor I'd be very interested to hear, for now it might become a handy place to keep my headphones.